This is from the
Warcraft
universe.
This has been removed from Heroes of the Storm.

Za'Muro is an orc blademaster who appeared in early builds of Heroes of the Storm. He was one of the very first heroes developed for the game. Inspiration was taken from the Dark Templar of StarCraft.[1] In early builds, Za'Muro benefited from strength items. The more foes he faced, the stronger he became.[2] He was originally known simply as "Blademaster" in the 2010 build.[3]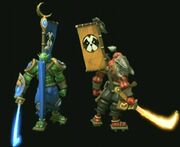 As with all heroes in the game, Za'Muro had a "good" and "evil" appearance. In his case, the most notable difference is that he appeared as a standard greenskinned orc in his "good" form and as a fel orc in his "evil" one.[4]
His stats and abilities were as follows:
Stats

Life: 4
Attack: 2
Abilities: 3
Speed: 4+

Abilities

Asura's Call
Chakra Waves
Cosmic Blossom
Counter Attack
Lotus Strike
Ultimate: Bladestorm[2]
In/by the April 2012 build of the game, a hero simply named "Blademaster" was (once again?) present.[5]
Samuro was revealed as a playable character in October, 2016.[6]
Background
Edit
Za'Muro was the greatest of the Blademasters. He could not be defeated in battle and so he began a quest to find his equal. He has wandered across the metaverse for untold centuries, searching for the ultimate adversary.[2]
References
Edit
Community content is available under
CC-BY-SA
unless otherwise noted.