We're Getting Mutants in the MCU - The Loop
Play Sound
"Thanks to sound military tactics and the fierce loyalty of its soldiers, the Viper organization rose to power—squashing all who tried to stand in the way."[1]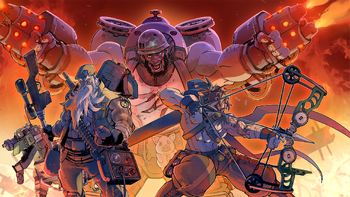 Viper Organization is an organization that control one of the Realms within the Nexus.
Background
[
]
The terrorist organization Viper wasn't the only criminal paramilitary outfit that had desired to conquer the world, but they were the first to accomplish their sinister goals. Using unbelievable technological advances alongside ruthless tactics, they waged war on the world at large for two decades. Now, Viper serves as the united world government's leadership and military arm, ensuring the populace remains complacent by stamping out insurrections wherever they might take root.
Despite this, a secret resistance formed in the shadows, and are fighting back for the United States.
Viper Organization content
[
]
Events
[
]
Skins
[
]
Sidewinder Ana

Backstory: As Viper's deadliest sniper, Sidewinder is personally responsible for killing the organization's most prominent enemies. Were it not for her, Viper may never have risen to power... a fact that she uses to her advantage whenever she is contested.
Firestorm Blaze

Backstory: Viper hunted him down. Slaughtered his brothers-in-arms. Now they're taken the one thing he truly loves in this world - his only daugther. The Firestorm is coming, and no snake will be spared the flame.
Deckard Pain

Backstory: As the United States signed the Malta accords, their sovereignty ended, and Viper's began. Yet, in secret, Maj. Pain had been given leadership over a team with a very particular set of skills and one final mission: resistance.
Deathfang Genji

Backstory: No one knows who Deathfang used to be. Some say he was a high-ranking Viper general; others that he was a common soldier. Whoever he was, his old identity has been permanently wiped from Viper's records. All that remains of him is his kill count.
Delta Hanzo

Backstory: Cpt. Shimada had his mission: to eliminate the Viper leader known as Deathfang, his brother. The government expected him to fail, but they made a mistake... they didn't realize they were dealing with Hanzo.
Imperator Stukov

Backstory: Thanks to the sound military tactics and fierce loyalty of Viper's soldiers, the Imperator has crushed his enemies and established a new world order. It is only a matter of time before his robotic fist snuffs out the dying embers of rebellion.
Mounts
[
]
Portraits
[
]
| | | | | | | | |
| --- | --- | --- | --- | --- | --- | --- | --- |
| D.E.R.P.A. | Deathfang Genji | Deckard Pain | Delta Hanzo | Firestorm Blaze | Imperator Stukov | Sidewinder Ana | Viper Broodtrooper |
Emojis
[
]
Deathfang Genji Pack
Imperator Stukov Pack
Emoji
Name
Shortcuts
Emoji
Name
Shortcuts
Deathfang Genji Helmet
:deathfang:
Imperator Stukov Lurking Arm
:lurking:
Deathfang Genji X-Strike
:xstrike:
Imperator Stukov Pustule
:pustule:
Deathfang Genji Venom
:venom:
Imperator Stukov Shove
:shove1:
Deathfang Genji Viper Crest
:vipercrest:
Imperator Stukov Shove
:shove2:
Deathfang Genji Shuriken
:shuriken:
Imperator Stukov Shove
:shove3:
Sidewinder Ana Pack 1
Sidewinder Ana Pack 2
Emoji
Name
Shortcut
Emoji
Name
Shortcut
Sidewinder Ana Happy
:anasidewinderhappy:
:anshappy:
Sidewinder Ana Angry
:anasidewinderangry:
:ansangry:
Sidewinder Ana ROFL
:anasidewinderlol:
:anasidewinderrofl:
:anslol:
:ansrofl:
Sidewinder Ana Cool
:anasidewindercool:
:anscool:
Sidewinder Ana Sad
:anasidewindersad:
:anssad:
Sidewinder Ana Embarrassed
:anasidewinderoops:
:anasidewinderembarrassed:
:ansoops:
:ansembarrassed:
Sidewinder Ana Silly
:anasidewindersilly:
:anssilly:
Sidewinder Ana in Love
:anasidewinderlove:
:anasidewinderinlove:
:anslove:
:ansinlove:
Sidewinder Ana Speechless
:anasidewindermeh:
:anasidewinderspeechless:
:ansmeh:
:ansspeechless:
Sidewinder Ana Surprised
:anasidewinderwow:
:anasidewindersurprised:
:answow:
:anssurprised:
Unreleased
[
]
The following content has been shown in the "In-Development" blog and presents in the game files, but isn't available in-game yet.[2]
Trivia
[
]
The preview video for the original skin set ends with a mysterious, unidentified figure punching the screen with the three agents on it, knocking down a picture of a little girl. This turns out to have been Blaze, setting up the sequel for next year.
Motif wise, Viper resembles both Cobra from G.I. Joe and the Brotherhood of Nod from Command and Conquer. Their troopers resemble those used by Talon in Overwatch.
The morse code during the end of the "Join the Resistance" trailer is "••• - •- -•-- •- •-- •••• •• •-•• • •- -• -•• •-•• •• ••• - • -•" which translates to "Stay A While And Listen".
Gallery
[
]
Videos
[
]
References
[
]