This is from the
StarCraft
universe.
This has been removed from Heroes of the Storm.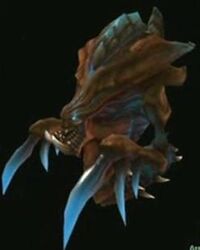 Vaevictus appeared in the 2010 build of the game. Here, he was known simply as "Hydralisk."[1] Vaevictis had short-ranged attacks and was an expert in killing enemies that got too close. He benefited from dexterity items.[2] By BlizzCon 2011 he seemed to have been remade into a siege hero.[3] He had the following stats and abilities:
Stats

Life: 2
Attack: 3.5
Abilities: 1
Speed: 5
Abilities

Envenom
Frenzy
Paralyzing Strike
Poison Sting
Rapid Regeneration
Tunnel[2]
Background
Edit
The zerg have many terrible creatures, the most elite among them being the famous Hydralisk strain known as "Hunter Killers." Chief among these creatures is Vaevictis, a ferocious killer who was chosen by the Swarm to hunt down the greatest threats to the zerg.[2]
"Vae victis" is a Latin phrase. It roughly translates as "suffering upon/to the defeated".
References
Edit
Community content is available under
CC-BY-SA
unless otherwise noted.