Jurassic World: Dominion Dominates Fandom Wikis - The Loop
Play Sound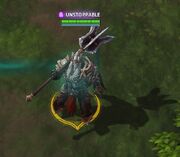 Unstoppable is a unique status effect that temporarily makes the affected Hero immune to crowd control effects. It also makes them Untargetable by certain skillshot or area of effect Abilities that can apply a crowd control, such as Auriel's "Detainment Strike" or The Butcher's "Lamb to the Slaughter" and prevents some unit targeted Abilities like Stitches's "Gorge" from being cast on the unit.
Some support Heroes have access to Cleanse or its variations, which can be cast on allies to grant them Unstoppable. Effects that only remove some crowd control effects, however, do not grant Unstoppable.
Invulnerable and Stasis effects also grant Unstoppable to the target.
Interactions with negative status effects
[
]
Debuffs that are removed and prevented by Unstoppable

[

]
Debuffs that are prevented, but not removed by Unstoppable

[

]
Debuffs that are not affected by Unstoppable

[

]
Abilities
[
]
Basic Abilities
[
]
Heroics
[
]
Talents
[
]
Non-Heroic Sources
[
]
Trivia
[
]
In 2020 the developer team experimented with Gladiator's Medallion, a Nexus Anomaly which granted all Heroes (with the exception of Deathwing and Gall) an additional Ability that once activated granted their Hero Unstoppable for 1 second on a hefty 5 minute cooldown. This Anomaly lasted only for one Ranked Season.
Statistics

 

Attack

_

Basic Attack ( Attack Range • Attack Speed) • Ability (Resource ( Mana) Spell Power • Cooldown)
Defense

_

Health • Health Regeneration • Healing (Healing modifier • Lifesteal) • Shield • Armor
Utility

_

Movement speed

Buffs

_

Absorbing • Evade (Parry) • Healing • Invulnerable • Protected • Stasis • Stealth • Shields • Unkillable • Unstoppable • Untargetable

Debuffs

_

Attack Slow • Blind • Crowd control • Damage over Time • Knockback • Revealed • Root • Silence ( Fear • Mind Control • Polymorph • Taunt) • Slow • Stun ( Sleep) • Time Stopped