Venture underground with this Heroes Brawl, The Mines Reopen, which features Shuffle Pick hero selection followed by a standard Heroes match on Haunted Mines! Collect Skulls deep within the mines to summon a Grave Golem and compel it to aid you on your mission to destroy the enemy Core.
Shuffle Pick
Pick one of three randomly selected Heroes before entering the Haunted Mines. Be quick about it, though —you only have 30 seconds to choose!
Standard Haunted Mines rules
Venture Underground: The Haunted Mines will periodically open with an Undead Army underneath.
Collect the Skulls: Destroy the Undead and collect their Skulls to summon a powerful Golem. The more Skulls each team collects, of the total 100 contained within the mines, the stronger their Golems become.
Unleash the Golems: After the Undead have been defeated, a Golem will rise for each team and plow through a lane in search of Structures to destroy.
Complete three matches to earn a Loot Chest.
Previous rewards
Edit
Completing three matches earned 1,000 Gold and the following portrait: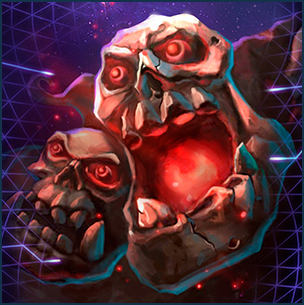 Community content is available under
CC-BY-SA
unless otherwise noted.