Jurassic World: Dominion Dominates Fandom Wikis - The Loop
Play Sound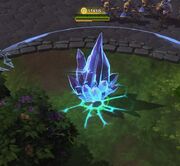 Stasis is an effect that makes the target immune to damage and untargetable by both enemies and allies, but also makes the unit in Stasis unable to use their Basic Attacks, Abilities and in (most cases) move for a short duration of time. As opposed to Time Stop, Stasis still allows cooldowns to refresh, and most Abilities that grant self-Stasis can be canceled to end their effect early.
Stases also remove most debuffs when they are applied. This includes not only crowd control effects that are removed by Unstoppable, but also Attack Slows, negative damage modifiers, like Armor and Spell Power debuffs, Damage over Time effects, healing received reductions, vision debuffs and combo markers, like Zul'jin's "Grievous Throw". Units that are in Stasis cannot be affected by Time Stop. Stasis does not remove the Revealed status effect.
Unlike Invulnerable targets, units in Stasis can also not be targeted or affected by friendly Abilities. However, Heal over Time effects, delayed heals such as Rehgar's "Ancestral Healing", and triggered heals, like Malfurion's "Rejuvenation" and "Moonfire" combination, applied beforehand resolve during friendly Stasis effects. Hostile Stases, on the other hand, prevent some delayed heals from activating, but do not affect HoTs.
Zagara's Devouring Maw is the only Stasis effect that allows damage to be dealt to the target and targetting Unstoppable enemies.
Self Stasis Abilities
[
]
Special Stasis states
[
]
As an effect of some abilities, the hero's model is completely hidden and the unit is put on a special Stasis state while performing the ability. Units in special Stasis ignore collision with other units. Abilities that have such effect are listed below:
Pseudo-stasis
[
]
Pseudo-stasis effects only apply part of Stasis' normal effects, making the hero untargetable and immune to damage and removing some types of debuffs, while not clearing DoTs and other types of debuffs. Abilities with Pseudo-stasis are listed below:
Abilities affecting allies
[
]
Abilities affecting enemies ("Hostile Stasis")
[
]
Non-Heroic abilities
[
]
Statistics

 

Attack

_

Basic Attack ( Attack Range • Attack Speed) • Ability (Resource ( Mana) Spell Power • Cooldown)
Defense

_

Health • Health Regeneration • Healing (Healing modifier • Lifesteal) • Shield • Armor
Utility

_

Movement speed

Buffs

_

Absorbing • Evade (Parry) • Healing • Invulnerable • Protected • Stasis • Stealth • Shields • Unkillable • Unstoppable • Untargetable

Debuffs

_

Attack Slow • Blind • Crowd control • Damage over Time • Knockback • Revealed • Root • Silence ( Fear • Mind Control • Polymorph • Taunt) • Slow • Stun ( Sleep) • Time Stopped