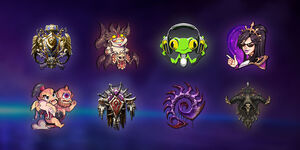 Sprays are a cosmetic feature in Heroes of the Storm that allow players' heroes to make their mark on the field of battle by dropping unique icons and tags on the terrain. They are obtained through crafting or via opening Loot Chests.
The default Hotkey for using a Spray is:  T
The spray lasts 8 seconds or untill a new one is sprayed.
Sprays
[
]
Nexus
[
]
Misc
[
]
Altered Fates
[
]
Anniversary Rewards
[
]
Badge
[
]
Chomp
[
]
Event Rewards
[
]
Greek Gods
[
]
Pixel
[
]
Events
[
]
Warcraft
[
]
StarCraft
[
]
Diablo
[
]
Overwatch
[
]
Stylized
[
]
Alarak of the Storm
[
]
Cartoon
[
]
Cute
[
]
Enforcers
[
]
Eternal Empire
[
]
HeroStorm
[
]