Jurassic World: Dominion Dominates Fandom Wikis - The Loop
Play Sound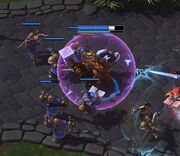 Shields are a bonus layer of defense a hero has on top of their Health.
Unlike health, shields are usually temporary. They'll be reduced by incoming damage first, before hit points. The amount of Shield is indicated by a white bar on top of the health bar (except in Fenix's case, where all shields are displayed above his health bar). Shields will always absorb damage until they are depleted or they expire. When a hero has no shields, they begin to take damage to their hit points instead. Even damage over time effects that were applied before the shield are still absorbed by a shield applied afterwards. You can save a teammate that would have died to Lunara by applying a sufficiently strong shield. If multiple shields are stacked then they are consumed in the order in which they were applied.
Shields can either have a duration or be permanent. Permanent shields are only lost when fully depleted, and can be restored by re-triggering the shield-granting effect.
When a shield absorbs damage on an allied hero it is counted as "healing done" and displayed in the role column of heroes. This only works for heroes and not minions, mercenaries or buildings where shields can still be used to absorb damage.
Abilities
[
]
Basic Abilities
[
]
Heroic Abilities
[
]
Talents
[
]
Generic talents
[
]
Non-Heroic Sources
[
]
Counter Abilities
[
]
See also
[
]
Statistics

 

Attack

_

Basic Attack ( Attack Range • Attack Speed) • Ability (Resource ( Mana) Spell Power • Cooldown)
Defense

_

Health • Health Regeneration • Healing (Healing modifier • Lifesteal) • Shield • Armor
Utility

_

Movement speed

Buffs

_

Absorbing • Evade (Parry) • Healing • Invulnerable • Protected • Stasis • Stealth • Shields • Unkillable • Unstoppable • Untargetable

Debuffs

_

Attack Slow • Blind • Crowd control • Damage over Time • Knockback • Revealed • Root • Silence ( Fear • Mind Control • Polymorph • Taunt) • Slow • Stun ( Sleep) • Time Stopped