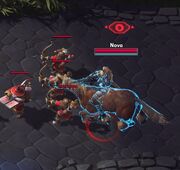 Revealed is a debuff that allows players to see enemy heroes, even if the target is out of sight, cloaked, within or behind a bush. This is indicated by a "red eye" hovering above the enemy hero. Revealed also reveals clones from real units (like Samuro's and Nova's decoys). The clones lose color, becoming clear, almost like vapor. Heroes that are Unrevealable are immune to this effect.
Revealed is most commonly applied by the Core, Forts and Keeps with the ability True Sight, which passively reveals everything around those structures.
Abilities
[
]
Basic Abilities
[
]
Abathur's ability, "Toxic Nest", reveals enemies hit for 4 seconds.
Gall's ability, "Eye of Kilrogg", places an eye that reveals a targeted area for 45 seconds.
Hanzo's ability, "Sonic Arrow", reveals the area around where it lands for 5 seconds.
Malfurion's ability, "Moonfire", reveals enemy heroes hit for 2 seconds.

His level 1 talent, "Celestial Alignment", increases the duration to 3 seconds.

Malthael's trait, "Reaper's Mark", reveals enemies afflicted by it.
Murky's trait, "Spawn Egg", reveals him to enemies for 15 seconds if the Egg is destroyed.
Tyrande's ability, "Sentinel", reveals enemy heroes hit for 5 seconds.
Tyrande's trait, "Hunter's Mark", reveals an enemy hero for 4 seconds.

Her level 7 talent, "Huntress' Fury", increases the reveal duration to 5 seconds.

Xul's ability, "Bone Prison", reveals target Hero for 2 seconds once cast and then as long as they remain Rooted.
Zeratul's ability, "Vorpal Blade", makes his basic attacks reveal enemies for 3 seconds or until another enemy is hit while off cooldown.
Heroic Abilities
[
]
Talents
[
]
Other Sources
[
]
Statistics

 

Attack

_

Basic Attack ( Attack Range • Attack Speed) • Ability (Resource ( Mana) Spell Power • Cooldown)
Defense

_

Health • Health Regeneration • Healing (Healing modifier • Lifesteal) • Shield • Armor
Utility

_

Movement speed

Buffs

_

Absorbing • Evade (Parry) • Healing • Invulnerable • Protected • Stasis • Stealth • Shields • Unkillable • Unstoppable • Untargetable

Debuffs

_

Attack Slow • Blind • Crowd control • Damage over Time • Knockback • Revealed • Root • Silence ( Fear • Mind Control • Polymorph • Taunt) • Slow • Stun ( Sleep) • Time Stopped