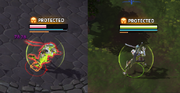 Protected is a buff effect that prevents the Hero from taking any damage and grants them Evasion. When your own Hero is protected, your health bar shines silver-greenish. When an ally is affected by Protected, their health bar shines silver-bluish, while enemies with the Protected status have a silver-reddish health bar.
While a Hero is Protected, Abilities against the Hero will still hit the Hero, meaning that their additional effects are applied and progress for hit-based quests, like Kael'thas' "Convection", is rewarded normally. Additionally, due to the damage prevention mechanic being "absorbing" (not to be confused with Absorbing) rather than "nullifying", Abilities that hit Protected targets will still count as doing full damage. This allows the attacker to lifesteal or gain progress for damage-based quests, like Jaina's "Frostbite", by using Abilities against Protected targets, even though the target takes no damage. Damage absorbed by Protected status is calculated after Armor reductions.
Basic Attacks and Abilities that deal Physical damage, however, will not hit due to Evasion. This means that Attack Modifiers from Basic Attacks will also not be applied.
Unlike Invulnerable, Protected does not make the Hero untargetable by enemies or immune to crowd control effects, like Stuns and Silences.
Abilities
[
]
Gallery
[
]
Statistics

 

Attack

_

Basic Attack ( Attack Range • Attack Speed) • Ability (Resource ( Mana) Spell Power • Cooldown)
Defense

_

Health • Health Regeneration • Healing (Healing modifier • Lifesteal) • Shield • Armor
Utility

_

Movement speed

Buffs

_

Absorbing • Evade (Parry) • Healing • Invulnerable • Protected • Stasis • Stealth • Shields • Unkillable • Unstoppable • Untargetable

Debuffs

_

Attack Slow • Blind • Crowd control • Damage over Time • Knockback • Revealed • Root • Silence ( Fear • Mind Control • Polymorph • Taunt) • Slow • Stun ( Sleep) • Time Stopped