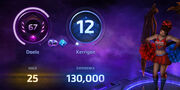 The Player Level is the sum of all Hero Levels earned beyond 1, so if a player has five heroes at level five, player level will be 20 (i.e. not counting level one, so 5 heroes times 4 levels each). Players can view their total player level by checking their profiles, or by hovering the cursor over their portraits in the game's menus.
Rewards
[
]
By level
Beyond level 25, the following applies:
Every level rewards a Loot Chest that doesn't already reward a Rare or Epic Loot Chest.
Rare Loot Chests are rewarded every 5 levels.
Badges/Portraits
[
]
Player progression badges in the Profile, Score Screen, and Quest Log will display the player's current level up to 99.
Player progression badge art will receive more decoration every 25 player levels.
Every 100 player levels, the level displayed in the progression badge will reset, and the badge will upgrade with even more ornate artwork.
The Basic Portrait Border will update every 100 levels with new art that matches the player's progression badge.