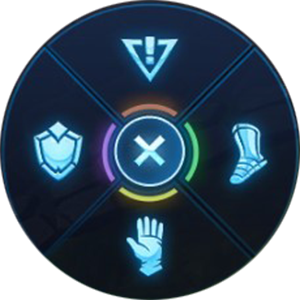 Players have methods of communicating with your team without chatting by using Pings. To ping you can:
Press Alt then Click on the screen or minimap
Hold Alt or G which brings up a radial ping menu to say: Danger (Up), Defend (Left), Assist Me (Down) or On My way (Right)
Press V to ping retreat.
These pings can be used both on the map and on your field of vision (like pointing out where an invisible Zeratul or Nova is.)
Messages
[
]
The pings will send out different lines depending on the ping used and the target being pinged.
Using the Party Frame
[
]
Players can use

Alt + Click at the Party Frame to generate various callouts.
Alt-clicking an ally's Hero portrait informs teammates that that ally needs assistance.
Alt-clicking a dead Hero's portrait will generate a chat message indicating that Hero's remaining respawn time.
Alt-clicking an enemy Hero's portrait will ping that Hero's location on the Minimap if they are within allied vision.

If that enemy is outside of allied vision, a chat message will inform allies that the Hero is missing.

Alt-click the Team Level to indicate when both teams are on even Talent tiers, or when one team has a Talent tier advantage over the other.
Target
Description
Sample Message
Ability
Off Cooldown
Zeratul is ready to use Void Prison!
On Cooldown
Rehgar can use Ancestral Healing in 8 seconds!
No cooldown but needs to recharge
Maiev is not able to use Naisha's Memento yet!
Has charges
Ana has 2 charges of Healing Dart!
Not enough Resource
Tyrael does not have enough Mana for El Druin's Might!
Team Level
Even Levels
Nova notes that both teams are at the same Talent Tier.
Team has Talent Tier Advantage
Zarya notes your team has a Talent Tier advantage.
Enemy has Talent Tier Advantage
Lt. Morales warns enemy team has a Talent Tier advantage.
Team at Level 10
Sonya notes your team has a Heroic Talent Tier advantage.
Enemy at Level 10
Valeera notes the enemy team has a Heroic Talent Tier advantage.
Team at Level 20
E.T.C. notes your team has a Storm Talent Tier advantage.
Enemy at Level 20
Whitemane notes the enemy team has a Storm Talent Tier advantage.
Health Bar
Genji has 99% Health!
Resource Bar
Kerrigan has 25% Mana!
Ally Portrait
Abathur wants to help Samuro!
Enemy Portrait
In vision
Greymane wants to kill Sylvanas!
Out of vision
Diablo warns that Cassia is missing!
While dead
Murky warns that Butcher will respawn in 4s