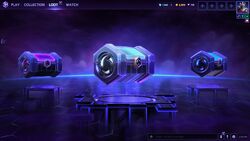 Loot Chests are collectible items that contain a random selection of items, including alternate skins, banners, emojis, voice lines, sprays, and more. They contain four random items, including playable Heroes and Loot Chest-exclusive items.
Loot Chests purchased via the Loot tab will only grant Rare Loot Chests.
Acquisition
Edit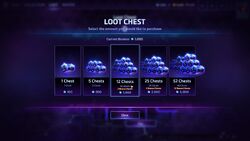 One Basic Loot Box is earned every time a player levels up.
Rare, Epic, and Hero-specific Loot Chests are awarded for reaching specific milestones
Reroll Loot Chest contents using Gold up to three times. Initial cost is 250 gold, then an additional 250 gold for each reroll (250, 500, 750). All of the original contents of the chest will be discarded with each roll.
Loot Chest exclusives such as Prime Evil Diablo
Guaranteed to drop at least one item of that chest's rarity, or higher
Loot Chest may be purchased with gems:

1 Chest: 100 gems
5 Chests: 500 gems
10 Chests (+2 Bonus): 1,000 gems
20 Chests (+5 Bonus): 2,000 gems
40 Chests (+12 Bonus): 4,000 gems
Veteran chests
Edit
All players who completed at least one Heroes of the Storm match prior to the release of Heroes of the Storm 2.0 received a number of Loot Chests based on their converted Player Levels in the new progression system.
The most dedicated players received a few "Veteran" Loot Chests, which are a unique reward created for the launch of Heroes 2.0. Each Veteran Chest guarantees at least one Legendary item, and contains 5 Nexus Coins, rather than 4.
Additionally, all players who reached Player Level 40 prior to the release of Heroes 2.0 received a 30 Day Stimpack, which activated as soon as Heroes of the Storm 2.0 went live in each region.
Completed at least 1 Heroes match: 5 Loot Chests
Every 10 Player Levels: +1 Epic Loot Chest (55 maximum)
Every 100 Player Levels: +1 Veteran Loot Chest (10 maximum)
Patch changes
Edit
Community content is available under
CC-BY-SA
unless otherwise noted.