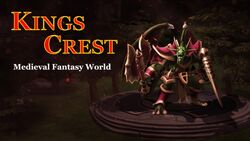 King's Crest is a location within the Nexus.
Background
Edit
"My realm stands in defiance of the Raven Lord. Now his armies assail us. Led by his most sinister generals."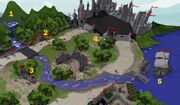 There are no peasants in King's Crest. It is inhabited by lords and ladies.[1]
The realm came under attack by the forces of the Raven Lord,[2] who burnt it to the ground.[3]
Development
Edit
King's Crest was one of the first concepts Blizzard Entertainment did for the Nexus. It was designed to feel similar, yet different to the Warcraft setting. It features a heavy Medieval theme. With that established, the developers began developing the structures, minions, and mercenaries that would inhabit the area. As Blizzard fleshed the concept out, it was expanded; the docks became Blackheart's Bay[4] and the town became Dragon Shire.[5]
It was originally spelt "Kings Crest," but was later changed to "King's Crest."[6]
References
Edit
Community content is available under
CC-BY-SA
unless otherwise noted.