We're Getting Mutants in the MCU - The Loop
Play Sound
For a Heroes Level during a match, see Experience.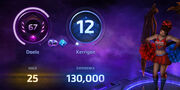 Hero Levels are an aspect of Heroes of the Storm outside of a match. It is an indicator of how much time you spend with a specific Hero. All heroes begin at Level 1, with a level cap of 999. Level progression unlocks rewards such as gold, portraits, and Mastery Taunts. Whenever you gain a new Hero Level, your overall Player Level will increase as well.
Maximum of 500,000 XP (before bonuses) can be gained from a single match toward the Hero Level.
XP Bonuses
[
]
Friend Bonus: +25%
Party Bonus:

2 Players: +25%
3 Players: +33%
4 Players: +42%
5 Players: +50%

Game Mode Bonus:
Boost Bonus: +100%
Rewards
[
]
Unlockables:
Level 5: the hero's portrait in the Collection;
Level 15: the hero's Master portrait in the Collection
Levels 15, 25, 50 and 100: unlocking the hero's Mastery Rings for purchase, tier 1 to 4 (note: tier 4 Mastery Ring not yet available)
Levels 15, 25, 50, 75 and 100: the hero's Mastery Taunts, tier 1 to 5
Recurring rewards:
Every 10 Hero Levels: Loot Chest with at least one item linked to the hero guaranteed
Experience to Level
[
]
| Level | XP Required | Total |
| --- | --- | --- |
| 1 | 0 XP | 0 XP |
| 2 | 100,000 XP | 100,000 XP |
| 3 | 250,000 XP | 350,000 XP |
| 4 | 400,000 XP | 750,000 XP |
| 5 | 500,000 XP | 1,250,000 XP |
| 6 | 600,000 XP | 1,850,000 XP |
| 7 | 700,000 XP | 2,550,000 XP |
| 8 | 800,000 XP | 3,350,000 XP |
| 9 | 900,000 XP | 4,250,000 XP |
| 10 | 1,000,000 XP | 5,250,000 XP |
| 11 | 1,100,000 XP | 6,350,000 XP |
| 12 | 1,200,000 XP | 7,550,000 XP |
| 13 | 1,200,000 XP | 8,750,000 XP |
| 14 | 1,200,000 XP | 9,950,000 XP |
| 15 | 1,200,000 XP | 11,150,000 XP |
| Additional Levels | 1,200,000 XP | 12,350,000+ XP |