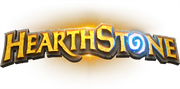 Hearthstone (previously Hearthstone: Heroes of Warcraft) is a free-to-play, digital card game set in the Warcraft universe. It was announced on 22 March 2013 at PAX East 2013,[1] and was released 11 March 2014.[2]
In Hearthstone, players can choose to play as one of nine legendary Warcraft heroes, taking turns to play cards from their customizable decks to cast potent spells, use heroic weapons or abilities, or summon powerful minions to crush their opponent.
Players can compete for glory and standing in the game's Ranked Play mode, battle legendary bosses from World of Warcraft history in adventure mode, or forge a unique deck of randomly selected cards in the Arena, and can complete quests and earn prizes to gain gold and powerful new cards for their collection, constructing formidable decks with which to do battle. Hearthstone is designed to be a quick and accessible card game, that nonetheless features substantial strategic depth for more serious players.
On December 4, 2016 Hearthstone dropped the "Heroes of Warcraft" subtitle due to ensure simplicity in the game title.[3]
Heroes of the Storm crossover

[

]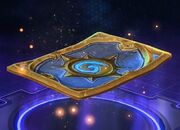 As well as sharing many characters from the Warcraft franchise, Heroes and Hearthstone also have some direct crossover in the form of promotional quests, designed to encourage players to explore both games.
Easy Rider - Achieving 100 wins in Ranked Play mode or Tavern Brawl mode will grant the player a special Hearthstone card mount in Heroes of the Storm
Hero of the Storm - Reaching level 12 in Heroes of the Storm will grant the player the "Hero of the Storm" card back in Hearthstone
Heroes
[
]
Unconfirmed
[
]
References
[
]
External links
[
]