Ghost Protocol is an all-Nova snipe-battle on Towers of Doom. Be sure to practice your aim before heading into battle, because every shot counts in this game mode – Snipe not only instantly kills enemy Heroes, but it also reduces the enemy team's Core health by 1.
Every player is locked in as Nova, Default skin vs. Spectres
Landing a Snipe on an enemy Hero will instantly kill them
All deaths remove one health from the opposing team's Core
All players have full access to Talents and Heroic Abilities
Be the first team to bring the enemy's Core health to zero to secure victory!
Complete three matches of Ghost Protocol to earn a Loot Chest.
Previous rewards
Edit
Completing three matches of Ghost Protocol earned 1,000 Gold and the following portrait: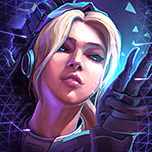 Community content is available under
CC-BY-SA
unless otherwise noted.