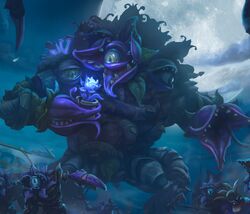 The Garden Terror is a summon in the Garden of Terror map. If a team successfully collects 3 seeds before their enemy, one will spawn in each lane and push towards the core. They possess high health, damage, and can disable structures.
Description
The Garden Terror is a very powerful summon, and contrary to the Dragon Knight, has moderate damage but extremely high health. Garden terrors can spawn bulbs that disable all structures within a certain area. These bulbs can be targeted and destroyed, although it's likely the terror will just make another one soon after. They also possess a powerful AoE slam that stuns nearby heroes and kills minions. Because of the Garden Terror's powerful abilities and skills, gathering enough seeds before the enemy team can is crucial. It is recommended that the team join with the terror pushing the enemy's weakest lane in order to reach the core as soon as possible
Notes
As of September 2018, Garden terrors are no longer a vehicle, and rather AI-controlled creatures similar to Alterac Pass' raiders.
References
Community content is available under
CC-BY-SA
unless otherwise noted.