Fnatic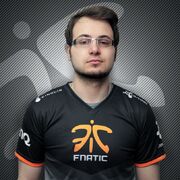 Fnatic is a professional Heroes of the Storm team based in the United Kingdom, Europe.
The organisation was founded by Sam Mathews and Anne Mathews on the 23rd July 2004 and registered as a company in Australia in the same year. Apart from its headquarters in London, United Kingdom, Fnatic also has offices in Belgrade, Serbia as well as a gaming house in Cologne, Germany. The organisation is widely known for a variety of teams, most particularly in having one of the most successful Counter-Strike 1.6 teams in the world.
In October 2014, Fnatic expanded into Heroes of the Storm, announcing a temporary team for the BlizzCon Exhibition Tournament, featuring key players from the StarCraft II and League of Legends competitive scenes.[1]
2014
November 8, the team is disbanded after Blizzcon.
2015
| | ID | Name | Position | Join Date |
| --- | --- | --- | --- | --- |
| | AceofSpades | Cristian Lippa | Support | 2015-01-14[2] |
| | Kesil | Riccardo Archetti | Carry | 2015-01-14[2] |
| | Shinobu | Jeremy Autore | Flex | 2015-01-14[2] |
| | Lowell | Joaquim Fitas | Flex | 2015-01-14[2] |
| | Fred | Frédéric Roth | Support | 2015-01-14[2] |
| | ID | Name | Join Date | Leave Date | New Team |
| --- | --- | --- | --- | --- | --- |
| | NaNiwa | Johan Lucchesi | 2014-10-09[1] | 2014-11-08 | Retired |
| | SaSe | Kim Hammar | 2014-10-09[1] | 2014-11-08 | Retired |
| | Lamia | Manuel Mildenberger | 2014-10-09[1] | 2014-11-08 | Retired |
| | Shushei | Maciej Ratuszniak | 2014-10-09[1] | 2014-??-?? | Retired |