Deathwing

"I am the destroyer."

Basic Info
Title
The Destroyer
Role
Bruiser
Difficulty
Medium
Franchise
Warcraft
Price
1,000

/

15,000

Release Date
December 3, 2019
Base Stats
Attack Type
Melee
Health
2750
Health Regen
5.7292
Resource
100 Energy
Unit Radius
1.25
Attack Speed
0.67
Attack Range
2.5
Attack Damage
155
Data Page
Deathwing, the Destroyer, is a Bruiser Hero from the Blizzard Entertainment Warcraft franchise. One of the five Dragon Aspects and the leader of the Black Dragonflight, Neltharion the Earth-Warder was once a protector of Azeroth. During the War of the Ancients, he was driven mad by the Old Gods and turned against his former allies. Now known as Deathwing the Destroyer, he has found his way to the Nexus, where his limitless rage drives his ultimate goal of widespread destruction and the eventual end of all living things.
Background
[
]
Neltharion the Earth-Warder was the leader of the Black Dragonflight and one of the five Dragon Aspects, beings empowered by the Titans to be the immortal guardians of Azeroth. However, driven mad by the Old Gods, Neltharion turned on his siblings during the War of the Ancients. Neltharion's body cracked open, revealing his molten heart, and magma and fire flowed off his chest. Goblin smiths forged an armor to serve as a vessel to contain his raging powers and keep it in check. Only those plates kept his power from destroying his body. After this, he took a new name - Deathwing, Aspect of Death. Deathwing was the most powerful servant of N'Zoth, and acted as his instrument of destruction. He manipulated both the Horde and Alliance during the Second War, but was ultimately defeated. He was not killed, however, and retreated to the elemental plane Deepholm to recover.
Years later, Deathwing emerged from his realm, outfitted with elementium plating that barely held his crumbling form together. He began the Cataclysm, an event that nearly tore Azeroth apart. His ultimate goal was to begin the Hour of Twilight, an apocalypse where all life would end and the Old Gods would awaken once more.
Gameplay
[
]
Deathwing is an extremely versatile and unique melee Bruiser, and plays very differently than other Heroes: Deathwing is permanently Unstoppable, making him immune to all crowd control effects such as Slows, displacements and Stuns. However, he also cannot be affected by any ally Abilities. Other players cannot speed him up, buff his damage, clone him, or even heal him. He also cannot be healed in the Hall of Storms.
Deathwing only has one Heroic Ability, which he has access to from the start of the game (though it starts on full cooldown). At level 10 he can choose between upgrading this Ability and picking an additional Active Ability.
Choosing a Form
[
]
Deathwing chooses between two dragon forms, Destroyer and World Breaker, which play very differently. Forms can only be switched every 20 seconds or when using Dragonflight, so it's important to know which form to use for each fight:
Destroyer

provides the most damage and mobility, making Deathwing a flexible brawler. This form is best suited for dueling heroes and chasing.

World Breaker

has more range and utility, providing a lot of CC and area denial. This form is best suited for engaging fights, poking, and setting up allies.
Unleashing Dragonfire
[
]
Molten Flame is the single most damaging Basic Ability in the game. However, it's important to choose when it's best to cast. It has an extremely long wind-up and is easy to avoid while in use - while also leaving Deathwing totally defenseless from all other sides. Try to cast it into allied crowd control, narrow pathways, or toward important areas to cut off opponents for maximum destructive value.
Battlegrounds
[
]
Deathwing excels on Battlegrounds with tight spaces that make his Abilities hard to dodge, such as Tomb of the Spider Queen, Battlefield of Eternity, and Garden of Terror. He also works best on smaller maps thanks to his low mobility outside of Dragonflight.
Hero Synergy
[
]
Just because he's above your paltry buffs doesn't mean he has to work alone. Deathwing benefits greatly from Heroes capable of keeping enemies in place to use his powerful but unreliable Molten Flame. He also enjoys Heroes with strong peel, who can shake otherwise sticky targets like Tracer and Malthael. Alexstrasza is uniquely the only Hero capable of healing Deathwing, thanks to her Talent Circle of Life creating a Regeneration Globe (once the quest is complete).
Strengths
[
]
Permanently Unstoppable, making him immune to all crowd control effects.
Area damage and zoning.
His Abilities are incredibly strong and uninterruptible.
High Health pool and passive Armor.
Global mobility.
CC.
Weaknesses
[
]
Poke damage
Weak to Percent Damage attacks, which chew through his Health bar and ignore his Armor.
His Abilities have a notable wind-up. This telegraphs his attacks and gives enemies time to avoid them.
Difficulty chasing and escaping enemies.
Once Dragonflight has been used, Deathwing's mobility options are limited.
Abilities
[
]
See Data page for a table of scaled values at key levels.
Talents
[
]
Builds and guides
[
]
Deathwing Community Build Guides @ HeroesFire
Deathwing Community Build Guides @ Heroes Hearth
Skins
[
]
Deathwing Skins

 

The Destroyer

Backstory: One of the five Dragon Aspects and the leader of the Black Dragonflight, Neltharion the Earth-Warder was once a protector of Azeroth. During the War of the Ancients, he was driven mad by the Old Gods and turned against his former allies. Now known as Deathwing the Destroyer, he has found his way to the Nexus where his limitless rage drives his ultimate goal of widespread destruction and the eventual end of all living things.


1,000

/

15,000


The Destroyer


Free
Ancient


Free
Savage


180

/

112


Iron


180

/

112


Glorious


180

/

112


Tyrannical

Backstory: Enraptured by the energy of the Dark Nexus, tossed on crystalline waves of incandescent pain, Deathwing seized great wingfuls of power and claimed them for his own.
Features: Themed abilities
Notes: This skin theme is part of a shared theme of Dark Nexus skins.


900

/

1,800


900

/

1,800


Shattered


900

/

1,800


Forgotten


900

/

1,800


Awakened


900

/

1,800


Astral
Portraits
[
]
Deathwing Portraits

 


Carbot Deathwing

120

/

75


Dark Nexus Deathwing

75

/

40


Deathwing Emblem

75

/

40


Deathwing Hero


Deathwing Mastery


Natural Selection

75

/

40


Pachimari Deathwing

75

/

40





Plush Deathwing

75

/

40


Sketchy Deathwing

75

/

40
Sprays
[
]
Deathwing Sprays

 


Carbot Deathwing

120

/

112


Dark Nexus Deathwing

75

/

40


Deathwing Badge

75

/

40


Pachimari Deathwing

75

/

40
Emojis
[
]
Deathwing Pack 1
Deathwing Pack 2
Emoji
Name
Shortcut
Emoji
Name
Shortcut
Deathwing Happy
:deathwinghappy:
:deathappy:
Deathwing Angry
:deathwingangry:
:deatangry:
Deathwing ROFL
:deathwinglol:
:deathwingrofl:
:deatlol:
:deatrofl:
Deathwing Cool
:deathwingcool:
:deatcool:
Deathwing Sad
:deathwingsad:
:deatsad:
Deathwing Embarrassed
:deathwingoops:
:deathwingembarrassed:
:deatoops:
:deatembarrassed:
Deathwing Silly
:deathwingsilly:
:deatsilly:
Deathwing in Love
:deathwinglove:
:deathwinginlove:
:deatlove:
:deatinlove:
Deathwing Speechless
:deathwingmeh:
:deathwingspeechless:
:deatmeh:
:deatspeechless:
Deathwing Surprised
:deathwingwow:
:deathwingsurprised:
:deatwow:
:deatsurprised:
Quotes
[
]
Development
[
]
The possibility of adding him was been discussed frequently by the game's developers,[1] but he was controversial due to his size. His inclusion was discussed as a battleground boss[2], a battleground or as a Core replacement.[3] During BlizzCon 2017 Kaeo Milker said: "So for Alexstrasza, we knew we wanted to go with something that was a dragon aspect again. We get asked for Deathwing all the time. Deathwing is something that we'd want to be this big dragon all the time, which is just really, really difficult. So Alexstrasza let us get the balance of fulfilling that dragon fantasy, and at the same time introducing a really interesting new support mechanic."[4]
D.Va the Destroyer
[
]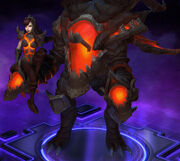 D.Va skin The Destroyer is themed around Deathwing the Destroyer. The reason for the existence of this skin in Heroes of the Storm is a bit intricate. On the 22nd of April, 2017, the official Heroes of the Storm Twitter account posted a teaser for an upcoming cinematic to highlight the launch of Heroes of the Storm 2.0, as well as reveal the next hero coming to the Nexus after the upcoming release of Genji.[5] One of the seemingly more popular fan theories in response to the teaser was that of the new hero being Deathwing.[6] However, when the "Hanamura Showdown" cinematic was released on the 25th of April, it turned out that the new hero was actually D.Va and the teaser had apparently merely been hinting at Diablo's presence in the cinematic.[7]
This sparked some controversy, with some players being disappointed by the lack of Deathwing or arguing that the teaser had been misleading, while others argued that it never made sense for the new hero to be Deathwing anyway and that it was the aforementioned players' fault for getting their hopes up over something that wasn't confirmed. In any case, the whole thing sparked something of a meme amongst the community, and in response Blizzard made the D.Va the Destroyer skin.[8] As an added bonus, the In Development video where the skin was shown features a scene on the end card where D.Va the Destroyer and Genji kill Diablo in Hanamura.[9]
When Deathwing was eventually announced as a hero in October of 2019, Blizzard again paid homage to the meme by preceding the announcement with a teaser image mimicking the original "Hanamura Showdown" teaser.[10]
Hero Design
[
]
Deathwing was the most requested Hero by the community. After the release of Alexstrasza, the developers began experimenting with different sizes for Deathwing. At first, he was 20% bigger than he is now. From there on they slowly decreased his size until he felt right. They had to carefully determine the size of Deathwing because when you're this massive Hero, you also become a magnet for skill shots and AoEs, just because you're easier to hit. He looks big, but should not be "the easist character in the game to kill". Additionally, body blocking and fitting through certain elements on the map also needed to be taken into consideration. So he ended up with the same hitbox as Azmodan, but with a massive Hero model. To make him look bigger, the developers used some animation tricks: He spreads his wings and legs more out while standing still than Alexstrasza and thus takes up more space than her. However, when he is moving around he "retracts" into his hitbox. So he looks really big, but it does not feel out of place.[11]
The designers looked at all of the versions that exist, from cinematics and other art pieces, to create their concept of Deathwing. When he was walking around during testing, people could really see the head, back, and wings. The team took the areas that people will see the most and added more detail to make him look more aggressive. Deathwing has an iconic firey chest, but you won't see that in game because you don't see his chest. The team tried to bring some of that fire to his back. The team added gaps to the armor on his back to let some fire shine through. Deathwing's jaw was a little too plain and chiseled, so they looked at reference material and added some iron cheekbones.[12]
For Heroes of the Storm it was important for him to feel overwhelming and powerful, while still playing well and balanced in the game. Two main fantasies were connected to Deahwing: The dragon fantasy (a powerful and menacing creature, who uses fire breath and physical attacks to tear enemies apart) and the Cataclysm fantasy from the World of Warcraft: Cataclysm cinematic (a terrible and mighty creature, who rips the world itself apart). Capturing both fantasies in one hero was challenging, so the team created two ability sets that he can switch between: The Destroyer form (a close range, aggressive melee kit) and the Worldbreaker form (a Mid range, area denial kit, ripping the earth apart beneath his opponent's feet).[12]
The developers discussed a lot internally, whether or not they should add a way to visually distinguish between Deathwings Destroyer and Worldbreaker form. They decided to not have a direct visual indicator for numerous reasons, but the main one being that persistent FX on a character are not only very expensive, but they generally add more clutter than they're worth. Malthael is a good example of another hero that went through this struggle. His mark had some nine iterations before they landed on the assortment of FX and Icons he's got now. Deathwing though is very different, and the reality is that you're going to know what form he's in very quickly based on the abilities he uses.[13]
The developers also wanted him to feel strong and powerful, so they started off with just a huge healthpool. It felt okay, but it was frustrating for the enemy team to through off all of their abilities at Deathwing and he still has many HP left. The effect was that the enemy teams didn't attack Deathwing at all and ignored him. Thus let the developers to the Armor Plate mechanic, where as you damage him he also looses his Armor Plates. Now weakening him felt more rewarding. Now it felt really meaningful to poke down his Armor Plates from afar right before a teamfight starts.
To make him balanced, Deathwing has quite some restrictions. He got double damage to heroes, a delay to lift off, active cooldowns after landing, and so on - to prevent him from being a cheesy split pusher. The players should want him to be in team-fights instead.[14]
To make him balanced, Deathwing became a hero who can't benefit from his allies' abilities. Despite that, he still relies on his team to be effective. The developers made a lot of design decisions to ensure that he doesn't go too far in the direction of being completely self-reliant. As one example, while he can't be healed by allies, he very much designed around excelling during big teamfight engagements. Because his abilities have such long wind-ups, he combos very well with his allies when it comes to receiving help in setting up a good Molten Flame, which can simply win engagements when done correctly. He also helps allied CC chains happen due to having fairly good follow-up CC, particularly when in Worldbreaker form. When played optimally, Deathwing is absolutely at his best when fighting alongside his team. In 1v1 settings he isn't nearly as potent due to his abilities being easily dodged due to their long wind-ups.[15]
Deathwing also can't heal in the Hall of Storms by design. He heals 2.5% of HP per second while in the sky and it would become better for you to hearth to the Hall of Storms, walk out, and hearth again to get your health back faster than sitting in the sky, which the developers wanted to avoid.[14]
Trivia
[
]
Deathwing made his debut in Warcraft II: Beyond the Dark Portal (April 1996).
In World of Warcraft: Cataclysm, Deathwing is voiced by Michael-Leon Wooley in the Cataclysm cinematic and Michael McConnohie in-game.
Deathwing was first playable on the BlizzCon 2019 floor.
Deathwing is the third dragon hero in the game, the first two being Chromie and Alexstrasza. Out of the three, he is the only one that permanently appears in his dragon form.
Deathwing is visually the largest hero in the game, appearing slightly bigger than Alexstrasza in her dragon form. The hitboxes of the two, however, are of equal size.
Deathwing features a unique health bar, which has the same dragon curled around it that World of Warcraft's elite mobs do.
Deathwing was foreshadowed in the Caldeum Complex event in the spring of 2019, with the patch description mentioning Techno Vandal Chromie having visions of a "cataclysmic force" on the horizon.
In the weeks leading up to Deathwing's announcement, occasionally the screen would shake, turn orange, and occasionally have Deathwing's shadow fly over at the start of the match.
Deathwing's dance animation is a reference to the Brazil Dog Dance.
Deathwing is permanently Unstoppable even at the in-game shop. If you try spinning him, he doesn't get the stun effect unlike other heroes in the game.

However, he has an extra animation in the Collection, where he'll fly out of the shop when you leave his screen. He will glide down and land if you view him.

Deathwing costs 1,000

/

20,000

at his release time. He is the first hero to cost more than the usual price tag for new heroes (750

/

15,000

at the release, 750

/

10,000

, 2 weeks after the release). This was something the developers planned from early in his development to recognize that Deathwing is something truly special in the game on many fronts. The original intention was actually for him to be the games first Mythic Hero, an idea that was later scrapped.[16]
Deathwing's Home Screen music is based on Xaxas—the song that plays in the cinematic trailer for World of Warcraft: Cataclysm—and the Deathwing Last Stand music that plays towards the end of the Madness of Deathwing boss encounter in World of Warcraft.
Deathwing was the last Hero ex-Blizzard lead-animator Lana Bachynski worked on before leaving Blizzard.[17]
Deathwing's Home Screen shows him standing on the rubble of the Dragon Knight in Dragon Shire. The portal behind him shows the Valley of Heroes in Stormwind City, which Deathwing briefly attacked at the beginning of the Cataclysm.
The Ancient Deathwing skin is a reference to Deathwing's original appearance in Warcraft II, in which he is depicted as a green dragon with black wings and silvery metal plating.
The Tyrannical Deathwing skin is a reference to the children's television Tyrannosaurus Rex named Barney.
According to Andrew Kinabrew, the Savage Deathwing skin is based on Mephisto's Soulburn skin tint.[14]
Deathwing has 6 scrapped abilities that aren't available in-game but still exist in the game code.[18]
Gallery
[
]
General
[
]
Development
[
]
Abilities
[
]
Videos
[
]
References
[
]
External links
[
]