This is from the
Warcraft
universe.
Cho'gall is a hero in Heroes of the Storm. He is unique in that he is jointly controlled by two players (one controlling "Cho", the Warrior, and the other "Gall", the Assassin). Their abilities are split as such.
Background
Edit
Cho'gall is a two-headed ogre - alongside Blackheart, one of the first seen in many generations - and was trained in the arts of the arcane by the warlock Gul'dan, who aided the struggling ogre in mastering the powers of the Twisting Nether. In time, Cho'gall became one of the most feared and venerated members of the Old Horde during the First and Second Wars against the humans.
Killing Cho'gall always counts as a double kill, therefore awarding twice the XP amount for the enemy team.
Cho'gall counts as two heroes for the purpose of team composition.
Cho'gall has the option to carry his mount around rather than actually riding it (Horse mounts only). The usual movement bonus effect still apply.[1]
The player that controls "Cho" has control over his movement and auto-attack. If one player disconnects, the AI takes over.
Players that attended BlizzCon 2015 or purchased the Virtual Ticket receive Cho'gall for free.
Only one player needs to own Cho'gall for two friends to play.
Cho'gall must be picked as a pair.
Both players will choose talents for their respective head.
For skins and mounts, both players choose a skin and a mount; the system will randomly select one of the two chosen skins and then select the mount chosen by the player whose skin wasn't chosen.
Matchups
Edit
Pairings
Edit
Effective against
Edit
Effective foes
Edit
Development
Edit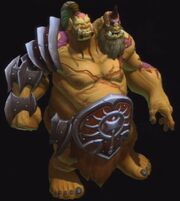 Cho'gall was showcased as a character in Heroes of the Storm in 2013.[2] As of December 2014, he was still intended for inclusion, but his release date was unknown.[3] He was revealed as a playable character at BlizzCon 2015.[1]
When designing him, the development team had a number of versions to choose from, ranging from his depiction in Warcraft II to how he appears in World of Warcraft. The Twilight's Hammer was given to Cho'gall at some point during development.[4]
Screenshots
Art
Cosplay reference kit
Edit
Patch changes
Edit
References
Edit
Community content is available under
CC-BY-SA
unless otherwise noted.