Blind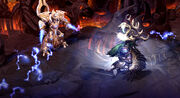 Blind is a debuff (a negative effect) that causes the Blinded unit's Basic Attacks (dealing damage of any type) and Abilities dealing Physical damage to miss for a set period of time. As a consequence, such attacks will not apply any additional effects to the target.
This can either be a minor annoyance or devastating depending on which hero is Blinded. Some Heroes are designed around their ability to do damage through Basic Attacks rather than Abilities. Heroes like Illidan, Butcher, Raynor, Hammer live or die based on their ability to land Basic Attacks. If you remove these Heroes Basic Attack they suffer greatly. Illidan and Butcher can't heal, Raynor, Hammer (and sometimes Valla) do much reduced damage. Other Heroes, typically Mages like Jaina and Kael'Thas do very little auto attack damage because most of their damage is done through Abilities.
Auriel's level 13 talent, "Blinding Flash", adds an additional effect to her "Sacred Sweep" ability, blinding enemies hit by the center area for 2.25 seconds.
Statistics

 

Attack

_

Basic Attack ( Attack Range • Attack Speed) • Ability (Resource ( Mana) Spell Power • Cooldown)
Defense

_

Health • Health Regeneration • Healing (Healing modifier • Lifesteal) • Shield • Armor
Utility

_

Movement speed

Buffs

_

Absorbing • Evade (Parry) • Healing • Invulnerable • Protected • Stasis • Stealth • Shields • Unkillable • Unstoppable • Untargetable

Debuffs

_

Attack Slow • Blind • Crowd control • Damage over Time • Knockback • Revealed • Root • Silence ( Fear • Mind Control • Polymorph • Taunt) • Slow • Stun ( Sleep) • Time Stopped